We're experts in designing user experiences that clearly communicate your business — and your brand — in a way that makes visitors connect and remember.
See what we do.
Project Photo:

Project Photo:

Project Photo:

Project Photo:

Project Photo:

Project Photo:

Project Photo:

Project Photo:

Project Photo:

Project Photo:

Project Photo:

Project Photo:

Project Photo:
Impact Productions
A web site targeted toward corporate executives without the common corporate dullness? For Impact Productions, an event planning and production firm known for their anything-but-boring shows, the focus was on delivering their message with energy.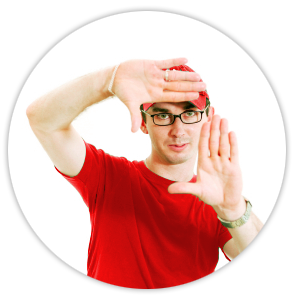 We began by designing several comps for the client until the right direction was found. Because budget was tight, we searched for the perfect stock photography to fill in the site and surrounded it with bold typography and a color palette that emphasized the client's brand identity.
Peckerwood Garden
Drupal
Imagine a hidden garden in a remote part of Texas, home to hundreds of trees, plants, and flora of all kinds found nowhere else in the state.
This is the setting for Peckerwood Garden created by John G. Fairey, a professor at Texas A&M. Selected for preservation by the National Garden Conservancy, Peckerwood is home to uncounted rare plants from Mexico, Asia, and beyond. It's really one of a kind. For those that can't attend one of the rare "open days," the web site lets visitors explore photos and read informative articles written by Mr. Fairy.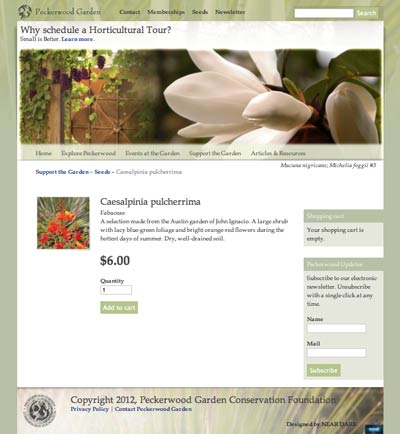 The site is built in Drupal and uses the Drupal Commerce module for selling seed, event ticket, and membership products. A custom modules provides an enhanced checkout experience.
ProBuild
ProBuild approached NEAR DARK for help designing a web site that would serve as an introduction to the world for their new corporate identity. What better way to design a site for one of America's largest home building materials suppliers than to start at the source: a lumber yard.
So we commissioned a photographer to travel with us to Idaho to photograph the yard as well as the construction of a mountain home. Thousands of photos later, the job of architecting the site for the home building industry's newest face began.
Colorado Can Do
Drupal
You've just won the election and you're ready to throw a BIG party. So big that it calls for its own web site, complete with events listings, donation forms, and of course, ticket purchasing. Oh, and you need it yesterday.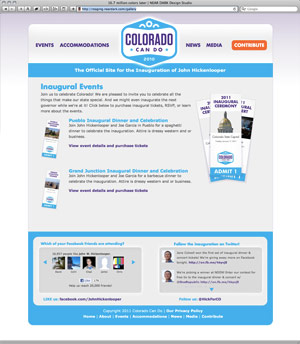 NEAR DARK used Drupal to build a sharp looking web site in record time so the party could go off without a hitch.
Commspeed
We designed and built a business-to-consumer web site for this homegrown provider of VOIP and WiMAX broadband services. Visitors in search of high speed internet or digital telephone services are invited to learn more about the products offered through the web site's friendly interface.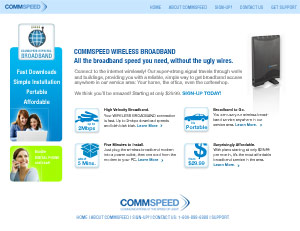 As part of our design strategy, we improved CommSPEED's brand identity by introducing a color palette that deliniates the company's two major product lines (blue for broadband, green for digital voice.)
Yucca Do Nursery
Magento Commerce
Originally launched in 2001, this site for a Texas plant nursery specializing in drought-tolerent cacti and succulents was recently redesigned for the Magento Commerce platform, where it houses a catalog of over 1000 rare species from the Southwestern U.S. and Mexico.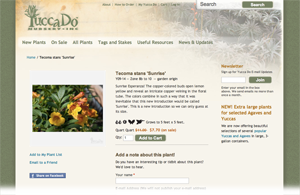 In addition to shopping, customers are encouraged to share their experiences with other green thumbs right on the product pages.
Chevo Studios
Drupal, HTML5
Large-scale rock carvings are the specialty of this nationally recognized artist whose sculptures can be found in many parks and public spaces across the country, and now, online.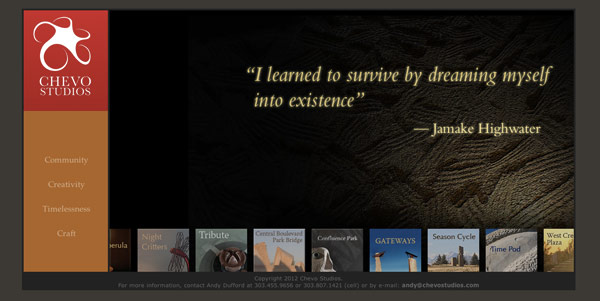 For this talented Denver rock carver, we created a one-of-a-kind user interface with beautiful transitions (using JavaScript/AJAX) that really wow site visitors. Behind the scenes, the Drupal CMS allows new projects to be quickly added to the site so the artist can highlight his most recent work.
HOMEPLACE Architecture
Influenced by Japanese traditions, this architect's portfolio is showcased through words and photos in an airy "Zen-like" Flash site. Organized into four main sections: Home, Place, Nature, and Craft, gentle transitions and carefully placed navigation progressively move the viewer through the presentation.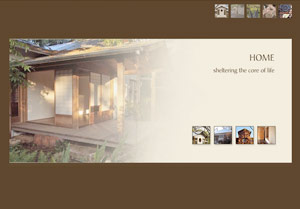 Copy, written by the client, describes each project in rich detail. The site is loved by visitors, including one person who e-mailed the architect with high praise: "What a nice self portrait; it was like a little visit to your calmer world. Your site flows nice and smooth, the content and format seem natural, well aligned."
Leading Edge Medical Search
The Monument Cafe
In order to send visitors on a trip back through time to a period when the roadside cafe was king, we took inspiration from black-and-white postcards. With a theme established, the story of this unique cafe in the heart of Texas began to unfold.
Hungry customers visiting the site can view daily specials, collect recipes and view color photographs of the cafe, that pop out against the monochrome backdrop. Plenty of good food with a healthy heaping of nostalgia.
The Monument Cafe Training
An employee training application designed for tablet devices.
Tweet WTF
NEAR DARK was tasked with creating the front-end user interface for a Twitter "re-tweet" application designed to attract young Twitter users to the hash tags #climate and #wtf. We started by creating a list of words that reflected the audience and the issue at hand. Working back and forth with the client, we explored many tag lines for the campaign and settled on "Give 'em the Bird."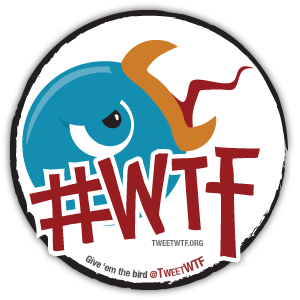 From there, we chose an angry bird (this was before Angry Birds!) for our mascot alongside bright colors and fun typography.
Redondo Manufacturing
Flash
Redondo is the oldest manufacturer in the state of Texas of architectural precast buildings (think cement panels for walls). In fact, they've been pouring concrete for over 100 years!
For the project, we sifted through historical photographs and shot a few of Redondo's newest buildings in order to build a complete picture of their amazing work.